Sweeping
Chimney Sweeping
Why?
Chimney Sweeping is needed to remove creosote deposits and other debris from chimneys and vents. Creosote buildup can lead to chimney fires or flue blockages. During a chimney fire temperatures inside the flue often exceed 2000 degrees and can destroy your chimney and/or lead to a structural fire. In the event of a flue blockage, which may be caused by creosote or other debris such as animal nesting, dangerous fumes can be forced into your home. Chimney Sweeping is a vital service to protect the health and safety of your family and home.
Our Service
Lucky Sweep Chimney Services & Sales, LLC offers complete, courteous service to make sure your chimney and your home, are as safe as possible. Our Lake of the Ozarks and Osage Beach Sweeping service is reasonably priced and accomplished by a Certified Chimney Sweep with the highest regard for our clients and their property.
We use tools designed specifically for your chimney that will not place undue stress on the linings inside the chimney. Each chimney type has specific sweeping recommendations of tools and methods to aggressively remove the deposits without damaging the integrity of the exhaust system.
As the sweeping process begins our high powered dust control machines with HEPA filtration will prevent dust from escaping into the living space. We use white drop cloths at our work space areas and it can be expected that the entire procedure be clean and neat. The process is "dust free" and there will be no mess, whatsoever.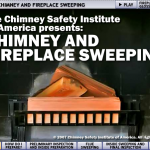 A Standard Chimney Sweeping also includes a Level 1 Inspection
The chimney, terminations, damper panels, smoke chamber, smoke shelf (if applicable) and the firebox will all be swept. In the case of wood stoves and furnaces the connector pipes are also cleaned.
Our Technicians
Our uniformed technicians will be prompt and professional, and will arrive in a fully equipped, clearly marked business vehicle. We take pride in our equipment and service procedures and arrive prepared to deliver the level of service you expect from a professional company.
Our technicians are Certified by the Chimney Safety Institute, and are familiar with applicable codes, standards and best practices in the industry. We also have National Fireplace Institute Certified staff in pellet, gas, and wood burning designations.
We are proud members of the:
National Chimney Sweep Guild
Hearth, Patio & Barbecue Association
Midwest Chimney Safety Council
National Fire Protection Association.
We have been in business in the Lake of the Ozarks communities for nearly 25 years with no change of ownership.
For your protection we carry a current liability policy for chimney sweeping and repairs and our technicians are covered by Worker's Compensation Insurance.
How Often?
If you burn for heat or have frequent fires during the burning season, your chimney should be swept yearly. The National Fire Protection Association Recommends chimney inspections once a year and maintenance and repairs done if necessary.
When in doubt, call for a professional inspection!
The Chimney Safety Institute of America recommends sweeping if 1/8" or more of soot or creosote is present in the chimney system.
There are many variables to consider regarding frequency of service. Our CSIA Certified Chimney Sweep may make additional recommendations at the time of service.
When?
April through July is the best time for chimney service. Not only can you receive a discounted rate, you will receive near immediate service. If repairs are needed, the spring and summer months are ideal to accomplish them. After September first our schedule fills rapidly and wait times can be weeks.
How You Can Help?
If possible, breakables and furnishings should be removed from the mantel and hearth areas in advance of the service call. We can assist with this if assistance is needed, but, prefer it be done by the owner/occupant in advance to the service time.