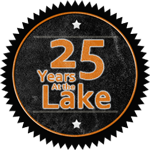 25 Years At The Lake of the Ozarks
Lucky Sweep Chimney Services & Sales, LLC
Owner Steve Hoover, was raised a conservative Mennonite and his first language was Pennsylvania Dutch (a German dialect). Like many Amish and Mennonites, the family's mode of transportation was horse and buggy.
A defining moment in Steve's life was the destruction of the cherished family home in the mid 1980's. It was apparent faulty construction of a chimney serving the wood stove, and a chimney fire had ignited the structure inside the wall resulting in a total loss of the home.
When Steve had the opportunity to purchase some chimney cleaning tools shortly thereafter, he recalled the tragedy of the fire and became a "chimney sweep". What started as a part time novelty for Steve soon became a fulltime business. Today Steve is owner of Lucky Sweep Chimney Services & Sales LLC, a company that services nearly one thousand chimneys each year.
The company is a member of the National Chimney Sweep Guild and Steve is certified by the Chimney Safety Institute and the National Fireplace Institute. The CSIA and the NFI are dedicated to public safety. Those who are credentialed with certifications have demonstrated a working knowledge of applicable National Fire Protection Standards.
Lucky Sweep Chimney offers professional inspection and sweeping service in Versailles and throughout the Lake of the Ozarks communities.   Lucky Sweep Chimney also has a certified technician serving Lebanon/St Robert area.  The company also offers sales and installation of wood burning stoves, inserts, liners and prefabricated chimney systems.